Percy Gravehouses Rutherford Co Tn
Oil on canvas, 2009
8 x 12
SOLD
Dwight's Rooster
Mowing Hay 1969
Oil on canvas, 2013
8 x 10
Monroe Co., 1969
SOLD
Tombstone Angel
Graphite on paper, 2012
Spring Hill cemetery, Madison, TN
Kentucky Gravehouses
Graphite on paper, 2009
26 x 29
Tombstone Ram
Gather at the River
Oil on canvas,
36 x 48
Church baptism at Fries, Va, July 1940
The Anointed
Waiting for a Game
Oil on canvas, 2013
My grandfather and his trailer ca 1969 Fries, Va
Fresh Eggs
Oil on canvas, 2013
11 x 14 inches
Sunday at Grannie's House 1947
Oil on canvas, 2013
City cousin visits country cousin
Ferryman's Last Trip, Barren Springs, Va
Oil on canvas, 2009
24 x 36 inches
My mother's uncle ran the ferry on the New River. When he died in 1925 his funeral was held on the ferry.
Based on family photo
Gravehouse Dickson Co.
Oil on canvas, 2013
20 x 30 inches
Gravehouse built for World War 1 soldier, 1918
SOLD
In Collection: Tennessee State Museum
This World is Not My Home
Adapted from Russell Lee photograph Harlan Co KY 1946
SOLD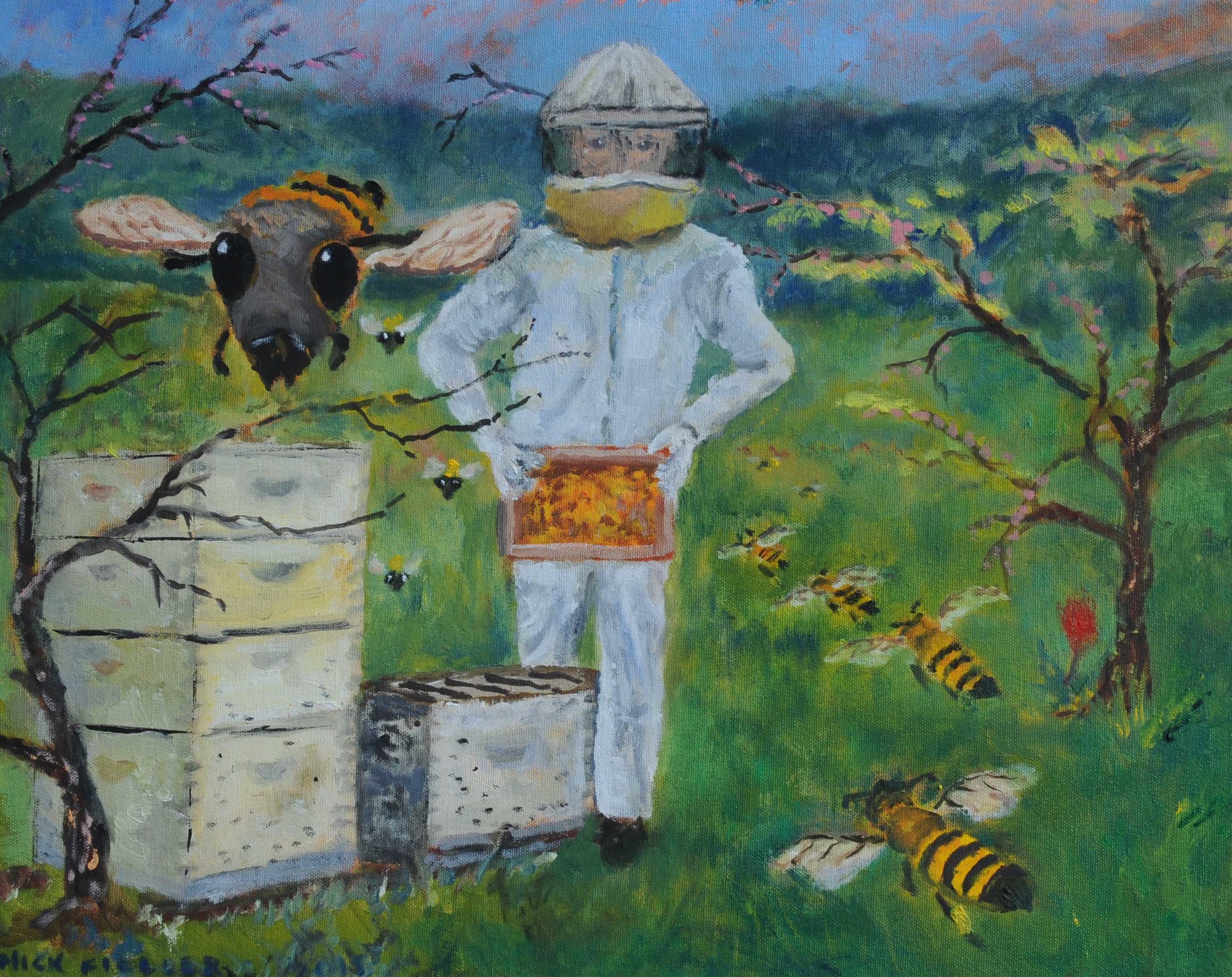 Robert's Bees
oil on canvas
2015
COMMISSION
Pennyland Arcade Seattle 1967
Chickens with Anger Issues
Rains or Freezes
Inspired by the country song I Don't Care If It Rains or Freezes as Long as I have my Plastic Jesus Riding on my Dashboard
This World is Not My Home
Harlan County Ky 1946
oil on canvas
SOLD
Coal Tipple LeJunior Mine
Harlan County Ky 1946
One armed snake handling preacher leaving work
Based on a Russel Lee photo
Spinning Room Girl
Cotton mill Fries Va. 1911
Based on Hines photograph
My grandfather Bill Holcomb worked in the mill with this girl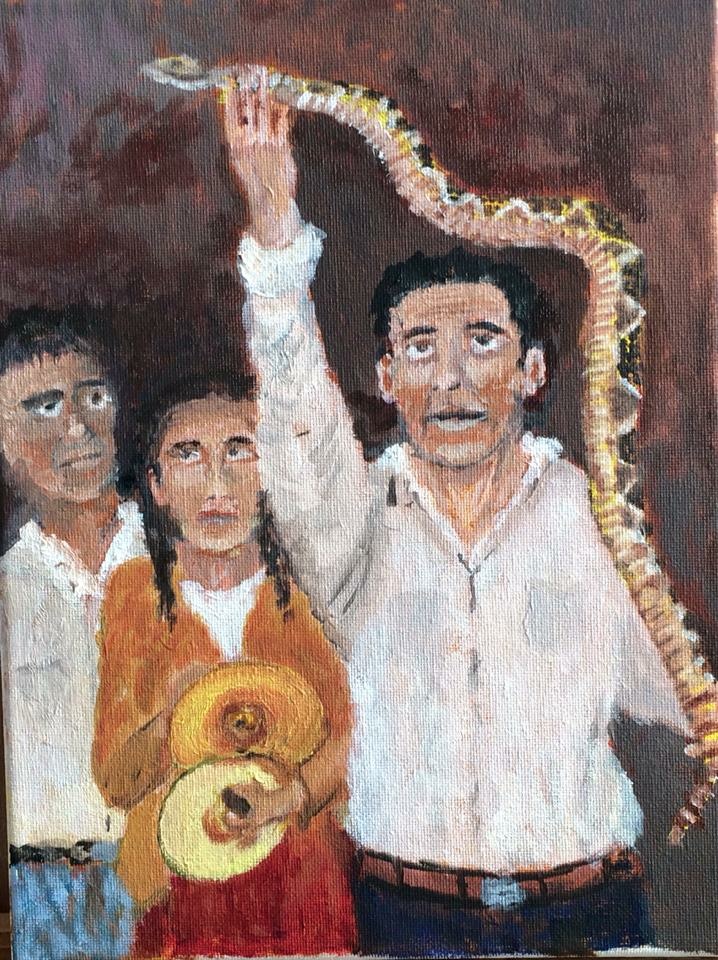 Stand Behind Your Man
Harlan County Ky 1946
oil on canvas
SOLD
Big Boy
Some Take Up Serpents True Believers Take Up Tomatoes
Oil on Canvas
SOLD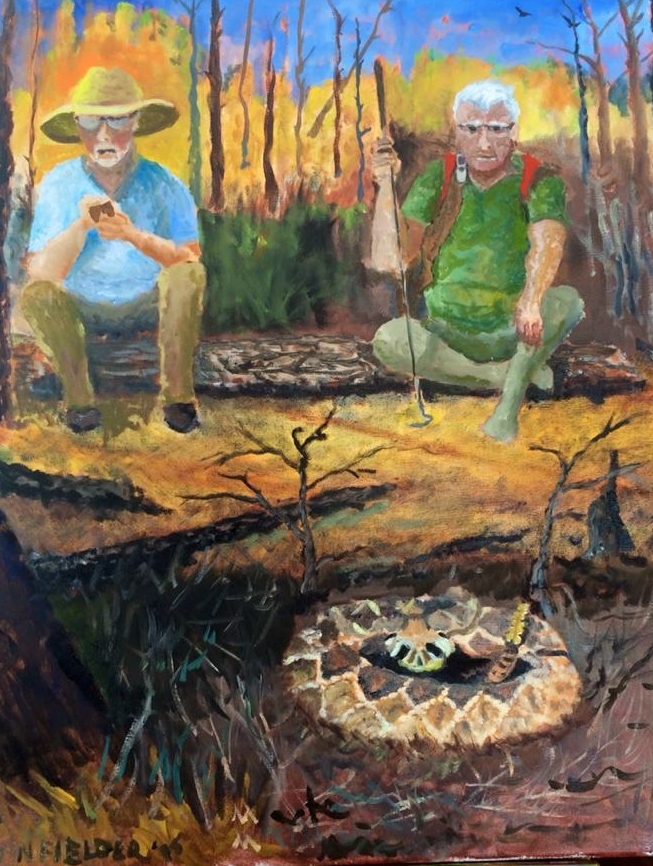 Two Guys and a Rattlesnake
A commissioned painting from a herpetologist
oil on canvas
2016
SOLD
Grandfather's Horse
Oil on Canvas
2016
Commission
SOLD